Farmer Brown is on vacation and it's up to Fernando El Fantastico the Bull (that's you!) to save his Herd when Aliens come to harvest them!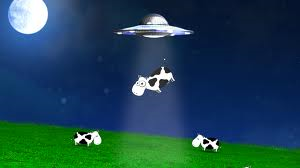 The peaceful night is shattered, when a huge UFO lands in your field and Aliens pour out - hell bent on probing you!
In panic your herd runs for the barn, but the Aliens give chase!
Using the cows in your herd and other loyal farm animals, can you repel the Alien Invasion?