You are dropped off in the Jungles of Southeast Asia
You land on the forest floor of a jungle somewhere in Southeast Asia.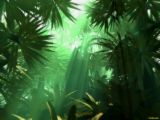 This place looks nice. Doesn't it? Well, here you are. In the jungle. Alone. You have a feeling that you should use your camera to document the Javan Rhino.
You see a meadow, some hills and a creek.