AppDude27

, The Dramatist
Member Since
2/26/2014
Last Activity
9/12/2017 4:05 PM
EXP Points
Post Count
88
Storygame Count
5
Duel Stats
9 wins / 10 losses
Order
Commendations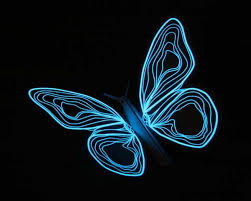 I'm AppDude27, nice to meet you!
I am a Programmer/Video Game Developer. I also love to write in my spare time!
Thank you for all the support that you have given me in my stories and writing. I definitely plan to continue writing more CYS games! Currently, I am working on a big project that is not CYS related, and has taken up a considerable amount of time for me. I typically check back here and there on this site once and a while.
Update: With all my responsibilities nowadays, its become difficult to continue writing stories so frequently. I would like to express my gratitude for the support that I have received with my current stories. Thank you so much for reading them! It means a lot to be able to share my creative works and get clear and cohesive feedback about what was good and what needed to be better. It will definitely help me in my future endeavors and will also make your experiences with these stories better!
I will post back soon with future updates. :)
Trophies Earned



Storygames

4 Little Mice
Four little mice went to search for some cheese, one got trapped, and then there were three.
Three little mice were playing with glue, one got a little too sticky, and then there were two.
Two little mice were on the run. Kitty wouldn't play nice, so then there was one.
One little mouse left all alone. He choked himself, and then there were none.

4 Little Mice is a Choose Your Own Adventure Poem that I wrote over the course of several weeks. The story tells a tale of love, companionship, sacrifice, and more. 

Storygame Features:

-Based on Agatha Christie's "And Then There Were None", but with a furry little twist!

-The butterfly effect has never been more important! Each and every choice you make could have drastic consequences!

-With over 10+ endings, you'll definitely be coming back for more.

Updates:
-Fixed a bug that brought certain mice back to life.
-Fixed a bug that prevented player from progressing. (Special thanks to Will11 and Plaacchei.)
 
---

Before Midnight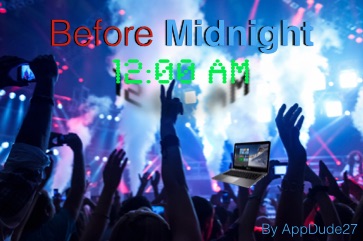 Why does your Composition and Rhetoric Professor have to assign a 10 page paper due by the end of the week at midnight?
Of course, you procrastinate your way through the week to Friday night. It's 7 o'clock PM. Only 5 hours until the paper is due. No exceptions!
You open your laptop and begin typing...until the power goes out.
Adventure your way through strict RA's, bug infestations, wild frat parties, and more in this all new storygame!
Features:
-Butterfly effect decisions that will affect choices later on in the story.
-Is that item worth taking? Or is it better left where it is?
-Multiple endings and even a "secret ending".
-See all your choices in the end.
Will you submit your paper in time before midnight?
Version 1.5 Updates:
+Fixed more grammar
+Updated the Score variable. It will now display how many pages you wrote in the comments! 
---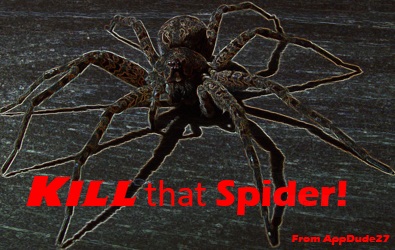 You just finished eating dinner, and now you have the poops! Time to go to the bathroom!
You walk along inside, shut the door, and lock it.
As you begin to sit on the toilet, you see massive spider on the countertop.
This...is...WAR!!!!
In this horrifying story game, play the role of a person just trying to use the toilet, while at the same time, killing an evil spider.
Features:
-Tons of endings leaving you or the spider in a better (or worse) condition than when you started.
-Multiple items to choose from! Protect yourself from the attacks with each new acquired object.
-Can you survive? 
This is a shorter story than my usual, run of the mill, adventure stories. If you're looking for something that isn't too long to commit to, then you will love this storygame.
Warning: You may experience strange tingling sensations on your skin after reading this story. Do not read this story if you have a fear of spiders. No spiders were harmed in the making of this story.
---

In Studio 5, you play the role of a film producer named John, who must find out why two of Hollywood's most famous celebrities have been brutally murdered right before your very eyes! Interrogate suspects, collect evidence, and solve puzzles as you try to figure out who did it!
Update 1.2: Fixed more grammar issues and improved upon the beginning of the story. John, Smith, Darlene, and Jim all have their own back story now, which may clear up any confusion about their characters. 
---
It was supposed to be your typical walk home from school. Take the shortcut through the woods. How difficult can that be, right? 
In this horrifying storygame, play the role of an adventurous teenage student, just trying to get home from school. 

Please DO NOT post your choices in the comments. Don't ruin the story for everyone else! If you would like to talk about the story, please refer to my forum posting, located in "The Parlor Room" section of the forums. Thank you!
Features:
-Butterfly effect choices that can change the course of what happens. 
-Will that item really be worth taking? Or will it hinder you later...
-Discover clues in your environment to help you survive the walk home.
-View all your choices in the end.
Update 6.1: 
-This is a MAJOR story re-working. If you have previously played The Shortcut Home, then consider playing it again! Major story backgrounds, characters, and information has been updated and changed. Any plot holes and story lore has been resolved. This may be the biggest Shortcut Home update yet! 

-Fixed minor grammatical errors.
---
Recent Posts
Myvacation
on 12/20/2016 1:15:10 PM
Thanks for the continued support!
There are some surprises planned for MyVacation, so stay tuned!
---
Myvacation
on 9/2/2016 4:26:15 PM
I took it down to update the game. Including new features and areas. Adding new skills, locations, etc.
Also correcting some errors from the first time around. 
---
My Vacation Help.
on 2/23/2016 1:44:51 PM
Buy a steak burger from the Pool's Shop and use it on the lion. That should do the trick! 
If you unlocked the monkey, you can also use the monkey on the lion.
---
Choose Your Own Adventure Radio Show!
on 9/30/2015 9:17:25 PM
Exactly, so something that is not "overly violent" to the point that it's gut wrenching to read. Some examples of this include:
- Excessive language involving pain, blood, guts, and other bodily harm
- Nothing related to intense sexual acts or sexual innuendos that are suggestive in nature. 
Think about it this way, EVERYONE listens to radio. That includes almost all age groups. Would you want your grandma to hear this? Your 16 year old cousin or nephew? Your son or daughter? Etc.
---
Choose Your Own Adventure Radio Show!
on 9/30/2015 12:21:08 PM
Go Your Own Way is an AMAZING podcast. I love listening to their show. It's actually what inspired me to do a radio show of my own. There are some differences, however. For one, we are also a video game talk show. The choose your own adventure portion is only an hour and it's where the real fun begins. 
 
Obvious sexual or violent stories are not allowed on radio. Stories that could be  PG-13 are allowed. Note that I will curtail or reword stories if there is profanity.It's part of the college's limitations for radio.
As far as length goes, we have a whole hour. Sometimes if we end the game talk show part early then we will have more time. Otherwise, if we can manage to finish the story in under an hour, then it's good. 
We would probably only go with one path. (Maybe two if time permits.)
---
Choose Your Own Adventure Radio Show!
on 9/29/2015 10:25:11 PM
Hello to all Storygamers!
Recently, I have formed together an adventurous group of people like myself to host our own Choose Your Own Adventure Radio Show! 
We plan on reading stories from talented authors like you on this site!
Some Story Requirements Before They Are Read...
1. The story MUST BE APPROPRIATE. That means no swearing or profanity. No intense violence. 
2. Length of the story must not be too long. We could do multiple shows for one story, but it is radio so it would be harder.
Other than that, feel free to post any recommendations that you feel are appropriate for radio! I will post episodes via sound cloud and there will be an iTunes Podcast eventually as well. More updates to come.  
-AppDude27
---
New Everything Else Storygame: 4 Little Mice
on 9/23/2015 7:58:57 PM
Just released a brand new story, "4 Little Mice". In this tale, play as the mice as they try to leave their only home while avoiding a pesky exterminator. Will they all survive? Or will they all die? The choice is entirely yours.
4 Little Mice is not a Choose Your Own Adventure Story. It is a Choose Your Own Adventure Poetry.

The story took me quite some time to make, and I'd love for you all to check it out!

http://chooseyourstory.com/story/4-little-mice
---
Two of my Ideas of a Story
on 9/20/2015 7:18:13 PM
It's your story, RimC. You can make it whatever you want it to be! That's the best part about being a writer. You can tell whatever story you want. 
It's like the movie, Spiderman, when his Uncle gives Peter his dying words, "With great power, comes great responsibility."
---
Two of my Ideas of a Story
on 9/20/2015 4:19:42 PM
The Final Days sounds a lot like "Fear the Walking Dead". These kinds of stories are really hard to accomplish, mostly because you are dealing with so many variables and plot points. 
The chew toy story sounded really cute, in my opinion. Maybe you could have the chew toy talk to the dog, and influence the dog's choices. For example, if the dog wants to grab a bone from across the road, you can influence if the dog should go get it or not. If you choose not to, the dog won't get hit by a car. Where if you did choose it, then the dog would've been met with a gruesome fate.
Honestly the chew toy one sounds really creative if executed properly. And please, do NOT make it a series like you did for the Wolves one. Don't release any demos either. Write the story for how it is and when you think it's done, release it confidently! 
---
New Story: Kill that Spider!
on 9/18/2015 12:21:44 AM
Aw, thank you! I really appreciate it!
Like I said, this one is much shorter than my typical stories. I wrote it out of inspiration from my coworker, who told me that a spider scared her while she was in the bathroom.
Then, like Batman, my storygame senses were tingling!
---