Bucky

, The Apprentice Scrivener
Member Since
1/30/2014
Last Activity
11/20/2017 11:21 PM
EXP Points
Post Count
1857
Storygame Count
3
Duel Stats
11 wins / 11 losses
Order
Commendations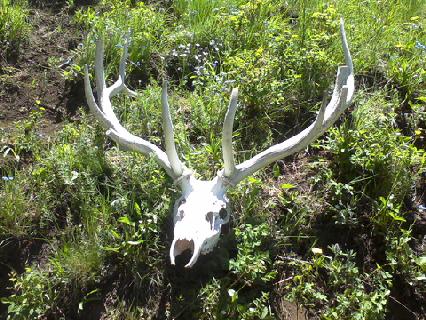 September 2016 - Short Story Contest - Winner -
Romulus
October 2016 - Spooky Story Contest - The NON-Shamed -
Steve24833 & Malkalack
&
ugilick & Lampmandnando
December 2016 - Ballad Contest - Overall Winner -
pugpup1
; Traditional Winner -
Romulus
January 2017 - New Frontier Contest - Co-Winners -
WouldntItBeNice
&
Ogre11
February 2017 - Flash Fiction Contest - Winner -
Romulus: Forever After
Trophies Earned







Storygames
A short story written and scripted in about four hours.
This isn't meant to be a masterpiece or an attempt at being deep. Hopefully it shows that a competent 20 page + story can be written in a weekend's time.
Contest entrants: there's no reason to garner SHAME when entering a contest on the site. Just sit down and write.
Five Endings.
---
Generic Warning - For immature  mature audiences only.
Author's Note
I fired the ridiculous cannon up for this one and took it up to eleven.
This project has lingered untouched in my trunk for nearly a year now. Originally intended to be a short work, it grew big and fat in my notes, and was then later locked away and ignored. Life happens. Anyway, I pulled it from the graveyard and decided to patchwork the dangling ends together. 
Play through the heroic or not so heroic adventures of a Cliché knight hero! There are a series of three endings for the knight that I considered canon when I first drafted the story. These unlock the first pages of what were intended to be the other hero paths of wizard, prince and spunky girl (along with some bonus troll material). If enough people enjoy the knight's story, I'd be open to reinvesting in the project and adding one or all of them on as an expansion. Each would play as its own separate story, so don't worry, there is a full and complete story in here.
The work, however, is raw - often intentionally so. And while the 'canon' endings unlock the bonus material, there really is no winning and losing. You just do better or worse.
That said, this is a fragment of the monster that lies in my notes, coming in at a little over 22k words. I feel comfortable saying there are a few chuckles in here, so I think if it brightens one person's day then it was worth publishing.
All comments, both mean and kind, are appreciated. Enjoy.
---
WARNING: Contains Sexual References
A mildly disturbing result of my attempts to learn my way around the editor. I dabbled a bit in basic html as well. The game functions mostly as a USA State Capitals quiz with a simple combat element. I put in a bit of a backstory, surrounding the quiz, and something mildly disturbing may happen if you die...
While this has little literary merit; hopefully, you may learn something.
---
Recent Posts
Complaint Thread
on 11/18/2017 5:24:59 PM
I'm out of whiskey.
---
New Prompt
on 11/18/2017 3:29:03 PM
Going to pass.
---
Do You Read User Profiles?
on 11/17/2017 7:51:06 PM
Evidence required to merely piss and moan is negligible. Evidence to amount to a "squirt" of piss however, is significantly more stringent.
---
Do You Read User Profiles?
on 11/16/2017 4:34:40 PM
I thought Lemons was banned? On in September.
---
December Contest Thread -- Non-binding Sign Ups
on 11/12/2017 10:39:11 AM
CYOA... but I might have a surprise
---
December Contest Thread -- Non-binding Sign Ups
on 11/11/2017 9:10:03 PM
I will definitely be including at least one explicitly ballad theme. But if you can hold true to the core theme of another prompt and do it in ballad form, more power to you.
---
December Contest Thread -- Non-binding Sign Ups
on 11/11/2017 8:32:56 PM
Hey Everyone, Sometime at the end of next week I'm going to officially announce the start of the First Year Ballad Anniversary Contest. In this contest, you will choose, on a first come, first serve basis, your own prompt from a list of thematic sentences. Each thematic sentence will have an accompanying number. To claim a theme, you will reply to the thread and copy/paste the theme and its number, then edit lock your post (so you can't change themes once you claim one). I will try and check in every other day and send out confirmations in the inevitable event that someone fails to follow directions. At any rate, I'd like to have a general idea of how many thematic sentences I should have prepared. I'm aiming to have a small surplus but would prefer to not write excessively more than necessary. The themes will vary in both specificity and genre. Some thematic lines will be formulated in a manner in which it will be deemed acceptable that they be included verbatim within the story. (Also acceptable if you include a generic theme in the story verbatim as an out-of-context Easter Egg, such as via dialogue.) E.g... A romantic thriller of two homosexual knights set in the Leon region of Spain during the 10th century. vs. And that's when Sarah decided to cut off Mr. Whiskers head and stuff it into the priest's mailbox. vs. A space opera. Don't anticipate any of these being actual themes or to represent the style or quality of themes. They're just demonstrating the variety principle. I'm hoping we generate a lot of interest for the contest. To help me gauge an idea of how many thematic sentences prepare, please announce your interest in this thread. And enjoy the upcoming holidays!
---
Spatial Complexity
on 11/3/2017 11:20:13 PM
The incoherence is nigh incomprehensible.
---
North Korea Nuking Guam
on 11/2/2017 3:49:00 PM
I'll probably post them a few days sooner. I expect Thanksgiving, or the Friday or Saturday immediately following.
---
EndMaster's Children Story Contest
on 11/2/2017 3:45:47 PM
He who laughs last laughs loudest ^_^
---