ThomasLaHomme

, The Wordsmith
Member Since
12/5/2017
Last Activity
9/26/2020 4:42 PM
EXP Points
Post Count
320
Storygame Count
2
Duel Stats
0 wins / 1 loss
Order
Commendations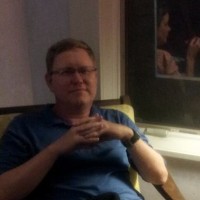 Hi, my name is Thomas La Homme. I'm a veteran of two Industrial bands. I'm also a poet. I grew up with the old Choose Your Own Adventure and Endless Quest books in the 80's and have always been fascinated with the old text-based computer games like Zork.
My background has been in writing fiction, so my point of attack when writing story-games is always with an emphasis on the story. I feel that interactive fiction is a valued art form that can be viewed as a subgenre of experimental fiction. Since mainstream writers are likely to take this format and do something skull-crushingly boring, I see this as an opportunity to expand the form of "genre fiction". Whether of not what I write is any good is up for debate. Writing is always a learning process, so hopefully I'm getting better as time goes by.
Let me know what you think.
Trophies Earned


Storygames

Aphrodite's Orphan
"A teenage girl living on a Venus out of 1930's Pulp Science Fiction must search the planet and other worlds with her robot tutor to find the killers of her parents.
 
This is done in the format of an Interactive Novel, so it's pretty far removed from the standard Dungeon Crawl format. This is more reminescent of the old CYOA books of the 80's and 90's, particulary T.S.R. Hobbies' Endless Quest Books. The characters have arcs which will be determined by the decisions you make.
Because this is set in an outdated version of the solar system, I consider this to be more a work of Fantasy than Science Fiction. Think Science Fantasy.
Also, there are elements of Hard Boiled Detective fiction and Film Noir. Like if Raymond Chandler or James M. Cain wrote about Buck Rogers and Flash Gordon.
---
Two sentient dolls who remember previous lives as a prince and princess in another universe, go on a perilous quest across the United States to learn more of their origins. My first storygame so any constructive criticism is welcome. Now with 30% fewer typos! Thanks to Mizal for editing advice. 
---
unpublished
A young man's coming of age as he navigates an underground fairy city where time runs slower and his hometown as it evolves into a metropolis over the centuries.
---
Recent Posts
Update About My Dad
on 9/26/2020 4:14:38 PM
My mom seems to be doing better now, mizal. They moved her to another place where she can adequately recover before they have her go back to her nursing home. I was able to call her this week and she told me she's on oxygen but that she's breathing better. I think she said she has a physical therapist who's giving her breathing exercises; hopefully, she won't always have to be on oxygen, but she was a smoker for close to 40 years.
Glad your dad is feeling better. Sorry about his weight loss.
I'll be so much happier when we have a mass-distributed vaccine-- even though some people are already saying they'll refuse to take it. Funny that it's genetic engineering that may be getting us out of this mess.
Oh, and speaking of Robert E. Howard, have you ever seen The Whole Wide World? It came in in1996 and stared Vincent D'Onofrio and Renee Zellwiger and was about Robert E. Howard's relationship with his school teacher girlfriend, Novalyne Price.  https://www.youtube.com/watch?v=4MpKsI_Q8VM
---
Update About My Mom
on 9/10/2020 10:11:12 AM
mizal, sorry about your dad. Hope he gets well soon. Houston? So you're in East Texas. I live in San Antonio. Nice to know another Texan on this site. You know, Robert E. Howard, creator of Conan the Barbarian, was from East Texas. He was born in Peastor and lived most of his life in Crossplains.
---
Update About My Mom
on 9/10/2020 10:07:37 AM
---
Update About My Mom
on 9/7/2020 12:11:32 PM
My mom seems to be doing better today. Yesterday, they had to run a central line through her neck and had identified that she had some kind of infection. Apparently, they have since discovered she has  pneumonia, which was probably an offshoot of having Covid-19. Now that they know what the infection is they can more adequately treat it.  I'll let you all know how things go. Hope everybody here is doing well.
---
Update About My Mom
on 9/6/2020 3:28:11 PM
I will, mizal. Thank you. Just hope she'll be okay.
---
Update About My Mom
on 9/6/2020 9:32:23 AM
This morning the people at my mother's nursing home found her unresponsive and rushed her to the ER of the hospital she'd been at before. Not much information right now. I'll keep you all posted.
---
Update About My Mom
on 9/4/2020 3:19:14 PM
I'll keep you all posted. Hope everyone is doing okay on this site.
---
Update About My Mom
on 9/4/2020 12:30:53 PM
---
Update About My Mom
on 9/3/2020 5:06:47 PM
So about a month ago my mom was retested for Covid-19 and came up negative so they sent her back to her own nursing home. Well, they rushed her to the hospital earlier this week because she was sweating and had a high blood pressure. They tested her again and found she was positive again. She was put on oxygen and given blood thinners. (One of my friends explained the thinners were to keep her from having strokes.)  She wasn't feeling well. They were going to get a cardiologist to look at her heart. 
My sister just sent me a text saying they were going to send her back to her nursing home and put her in quarantine for the next few weeks. So I'm guessing she's okay.
I don't like this disease.
Anyway, I hope all of you in Interactive Fiction Land are doing well.
---
My Mother Has Covid-19
on 7/24/2020 5:04:41 PM
Sorry for the delay in the status update. I few days ago I went through some major drama I don't want to get into right now. But I finally got to talk to my mother. She said she's having trouble keeping anything down. No cough right now. They moved her to another home and will send her back to her own when she tests negative for Covid-19. Hope everyone here is doing well.
---