Ogre11

, The Grandmaster of the Written Word
Member Since
11/20/2014
Last Activity
12/5/2022 11:17 PM
EXP Points
Post Count
4246
Storygame Count
21
Duel Stats
37 wins / 29 losses
Order
Commendations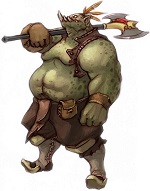 Ogre11, The Grandmaster of Fart
I like to write. I have lots of stories running around in my head, but it does take me (WAY) too long to get them from my mind to paper (or computer bits). I've always loved "Choose your own Adventure" type books, so I thought, why not write a few to share with others? I hope you like the stories I set up here.
I do appreciate you reading my stories and please do provide feedback on what you read! Feel free to PM me with questions or comments on stories, or even start up a thread if you want to talk more.
Also, you can go read this non-CYS
litrpg story I'm working on:

Storygames
| | | | |
| --- | --- | --- | --- |
| Year | Title | Notes | Contest Entry? |
| 2014 | | This is an lolrandom story. First thing I wrote here in 2014. | |
| 2015 | | A fun, simple, classic CYOA | |
| | | A bit of lolrandom, but written a different way. | |
| | | Interesting exploration from forum ideas with lots of variables. | |
| | | Created for a 4-week short contest. Can't find the contest results. | Playa's 4-week contest |
| | | Game with lots of variables and numbers. | |
| | | An interesting single large branch and bottleneck story. | |
| | | A hilarious, short game that I still read and laugh at, years later. | Brevity, the Soul of Wit: Winner |
| 2016 | | Lighthearted puzzle adventure. | Riddles and Puzzles: First runner-up |
| 2017 | | Short, silly story wandering in mountains. | New Frontier: Tied for First place |
| | Spy Mission ⭐ 🥈 | Longer, more involved story with lots of branching. My first featured story. | Summer Slam: Second place |
| | | Short and very silly story. | |
| | | Fun and silly jaunt that has a few puzzles. | |
| 2018 | | An attempt at horror that didn't turn out too bad. | |
| 2019 | | Interactive fiction game like Zork. Pretty hard to find everything and finish. | |
| | Hank's Journey ⭐ 🥇 | Gauntlet, graphic, adult and crazy story. | EndMaster's Succubus: Winner |
| | | A short, hilarious game that is little more than an inside joke for Will11. | |
| 2022 | | Fun adventure mystery game. (Now on Kindle!) | Lords of the Land II: Winner |
| | | First person noir detective in cyberpunkland story. | |
| | | Series of short stories told by people in an inn. (Also on Kindle) | |
| | | The re-make of a (really bad) contest entry from 2019 End of Year Contest | |
| | The Cult 🍻 | A slightly alternative history involving a couple religious organizations | |
| 2023 | The Missing Child 🍻 | Another mystery in the land of Rolkenstein (the setting for The Murdered Official) | |
| | Moon Base Alpha 🍻 | Another rewrite, this time for the 2018 Epic Contest that I never actually finished | |
⭐ = featured story; 🥇 = place in contest; 🍻 = coming soon
Trophies Earned
Trophies Earned
















Storygames
---
---
---
---
---
---
---
---
---
---
---
---
---
---
---
---
---
---
---
---
---
unpublished
This is a fantasy adventure where you star in the role of the young adventurer! Follow the adventurer along throughout his life starting out as a child and leading into adventure. Be careful with your choices because almost every time you make a choice, it will have an effect later in the story.
---
unpublished
---
unpublished
---
unpublished
---
unpublished
It's time to head to English Class
---
unpublished
---
unpublished
---
unpublished
---
Recent Posts
another draw thread by a non artist
on 11/26/2022 10:41:13 PM
Nice
---
Changing Title/Link Colors for Every Page
on 11/23/2022 1:45:26 PM
Global Background Change To set up a background image to all of the pages, without having to manually put in the code on every page you can use simple scripting. Its actually pretty easy. To do this, your story must be an advanced editor story, and you must have scripting turned on. Then, you click on the Scripts tab in your story, and click on Global Page Script. This opens up a window, and what you type in here will get applied to all the pages in your story. This is what you need to type in the scripting window: $PAGETEXT := $PAGETEXT + "" Then change 'URL' to the url you found earlier. You can still easily have a single page have a different background from the others (for instance, having the first page look like a book cover, and then the other pages have an aged paper look to it). All you have to do is go to the individual page and then put the background image code in that page and it will override the one on the global script. (You can just use other things than "background" here as well)
---
How do you do a battle system?
on 11/22/2022 7:30:05 PM
The more options you want, the more complex it gets. In other words, you could have a super-simple slap battle where the only choice to slap. You'd still need variables to track your health and the target's health (unless one slap wins). You'd also have to have random numbers to determine the battle outcome. You'd need some IF statements and pages to process the outcome of the battle. If you want things like weapons, defense, armor, choices of attacks, ranges, and things like that, well, each option adds exponentially to the complexity of the battle. You can actually spend months planning out the math and mechanics of the combat system before you even try and consider how to implement it in code. And levels? Yet another layer of complexity to track and maintain. But yeah, it can be done and it's not too hard if you are a programmer. There's no simple mode, though.
---
CYS Prophet has spoken
on 11/22/2022 7:20:02 PM
Hmmm. Mhm.
---
let's play Lost Coastlines
on 11/16/2022 9:32:31 PM
Ho! The Wickglass... oh... never mind. We plundered and conquered: time for a drink! To Daen
---
another draw thread by a non artist
on 11/15/2022 7:32:57 PM
And the day
---
another draw thread by a non artist
on 11/14/2022 10:36:13 PM
Understandable
---
another draw thread by a non artist
on 11/14/2022 10:32:29 PM
Ouch. That was rather severe.
---
another draw thread by a non artist
on 11/14/2022 10:31:34 PM
Seems legit
---
another draw thread by a non artist
on 11/14/2022 10:06:24 PM
Quality thread, would read again: 6/8
---