Agent_47

, The Wordsmith
Member Since
8/2/2007
Last Activity
6/21/2010 10:36 AM
EXP Points
Post Count
64
Storygame Count
0
Duel Stats
32 wins / 42 losses
Order
Commendations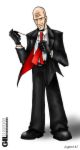 Updated 5/29/10
I Nolan McGinn. I live in Rock Falls Illinois. Im 14 years old my birthday is May 8th. My BEST FRIEND is Brady Rude. I have alot of other great friends though like Bryson Reyes Paige Ruthart Sarah Trujillo Jake Bieneman Drew Rosengren and Jamie Nelson. I have the best girlfriend ever her name is Jade Garza. The kewlest memebers on here are emma101rox harrypotterfan17 and sportsfreak24. I love sports! My favorite sport is basketball then track (we have thee best track team in the state) then theres football. In track im the 100 meter 7th grade state champ with a time of 11.5. Im the runner up for the 200 meter. (my best friend Brady won) my time was 25.2 his was 25.1. Our 4by2 got 3rd i was the anchor. We won state as a 7th grade team because me and Brady did everything. Mt favorite band/group is Black Eyed Peas. My favorite songs are Where is the Love-Black Eyed Peas OMG-Usher Telephone-Lady Gaga and Beyonce Young Forever-Jay-Z and One Tribe-Black Eyed Peas. My favorite movie is the Blindside! I have a phone so ask for my number if you want. I dont really get on here very much anymore because well its pretty boring! Well thats all you need to know about me if you even took the time to read this. CYA!
Trophies Earned

Storygames
unpublished
You are so happy that you have found a new house. But will you still like the house at night time when you are in complete darkness? Can you survive till morning? Will you find out why this house is like this? All you know is that this house will do anything to keep you from being alive till morning with your worst fears inside.And will you find out what is going on with your new neighbor.  But once you walk in theirs no turning back.
---
Recent Posts
Password
on 7/17/2008 11:23:24 PM
If you forget ur password how are you supposed to get a new one. If u were already logged on but u can't remember ur password how come u can't check on My Stuff to see what it is?
---
The Eye
on 6/9/2008 2:22:08 AM
I didn't think the Ring was scary at all. And the Jessica Alba the Eye. Never seen any of the saw movies or Hostel. Disturbia one of my favorites. and When a stranger calls was pretty good.
Has anybody seen One Missed Call? thats one of my favorites also. And anybody seen the Strangers. I haven't seen it yet but my mom went and saw it and she said it was the scariest movie ever. But she also said Disturbia was scary.
---
The Eye
on 6/7/2008 11:45:04 PM
Anybody seen it? I thought it was the scariest movie I've seen. But I haven't seen many very scary movies.
---
Cloverfield
on 2/15/2008 10:14:21 PM
I didn't really like. i mean it was a good movie but I didn't like it being in the view of the camera.
---
I Am Legend
on 1/3/2008 8:20:42 PM
yeah the movie was preety creepy. I saw it with my friend and cousin. It made my cousin scream when the first vampire showed up. I also liked the dream thing that was going on in it. And I think the creepiest part was when he was in the tunnel looking for sammy. The part I thought was creepy in tunnel part was when he flashed the light on the vampire things and they had they were turned around looking at the wall. And I like the fact that the vampires wern't like afraid of garlic and turned into vampires. I think it might have been one of Will Smith's best. But I wasn't used to him being a serious actor. I always think of Will Smith as the teenager from Fresh Prince of Bel-Air.
---
I Am Legend
on 1/2/2008 7:26:00 PM
Great movie. I just saw it yesterday. You can't really tell their vampires.
---
Invasion
on 12/28/2007 5:06:31 PM
Well still with aliens.
---
Invasion
on 12/28/2007 5:06:11 PM
Should I just remake invasion or should I make a complately different story?
---
Invasion
on 12/24/2007 11:06:06 PM
I'm remaking Invasion. Turning it to advanced and making more choses.  And merry christmas, happy qanza, or happy honika.
---
hi!
on 12/23/2007 9:22:28 PM
---