chris_zelda

, The Wordsmith
Member Since
11/7/2005
Last Activity
12/21/2011 12:23 PM
EXP Points
Post Count
0
Storygame Count
6
Duel Stats
0 wins / 0 losses
Order
Commendations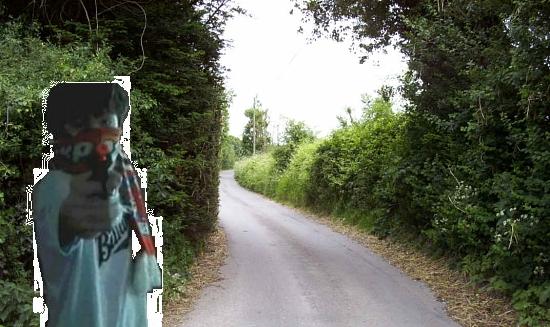 hay im chris
i live on the scabby bourough peintular, still at school at scabby privite school. my friend told me about this site like a year ago and iv been usin it ever since
Trophies Earned

Storygames
Blood guts and gore. Oh yeah, and cows.
---
coauthor
You're a loser. You've done nothing much in your life, you've never really amounted to anything, you just suck. But today's a new day. It's time to make a fresh start. Whether or not that start leads to a happy ending, or a horrible unexpected death, whether you become a hero or a villian, whether you want rob and attack innocent people, or you just want to make your life that little bit better.... 
It's all up to you.
03/03/07 GAME UPDATED: You can now kill more people using guns. Or rather, you can USE your guns to TRY and kill them. In any case, the game is much better, and I've also fixed many of the variable change glitches.
04/16/07 UPDATED AGAIN: EVER WONDERED WHY YOUR HEALTH EQUALS 0 AND YOU STILL DON'T DIE?! Me neither, but it's dumb. I fixed that. Also, the variable TRBLMKR is no longer shown on the screen.
Sorry if you got a save deleted! It was for the greater good....
---
coauthor
SPECIAL MESSAGE FROM AUTHOR
This was a game Chris_Zelda worked on in high school. It was highly ambitious, with gif animations and YouTube videos and licensed use of the South Park character creator- we sent the person who made it an email and got permission for it and everything. Mouldy Oldiez was shaping up to be the biggest game CYS had ever seen...
Then we stopped using the site and got real lives, the boring kind. One day I thought I'd just take what we'd made and release it to the public, because I'm probably never going to finish it and honestly, looking back, it was actually pretty cool, even without everything we wanted in it. A few broken links and items will no doubt be noticed (feel free to inform me of them), but if you just click back you should be able to find another route and get some kind of enjoyment from this game. Thanks to Alexp and all of CYS for staying online all these years and giving me somewhere to start writing, I appreciate it.
Miccy2000
A zombie outbreak in a aged care home.
Old people. Zombies.
How is anybody meant to tell the difference? And the black suited agents that are trying to apprehend you aren't making your day any easier.
Well, you better decide what to do quickly, or you may....
Well, who knows what will happen?
---
Your sister is on schoolies (in Australia its a after grad party where people get wasted and stuff).
Mum and Dad want to keep an eye on her so they book a room at the same hotel. You invite your friend Michael to come up to the resort.
That's pretty much it. Based on a true story by the way.
OR......
You can go on an epic adventure, evading the government in the first mission of a story you know nothing about, in an epic quest with next to know real plot.
WARNING. Drug use, violence and immature themes. Not recommended for audiences with good taste or sense of judgement.
Bonus Mini Game, The Hallway of Purple Tacos, was made by Miccy2000, who does not endorse drugs or beating up Mario, in any way shape or form.
Drugs are bad.
---
coauthor
BEFORE YOU PLAY
Due to technical difficulties with photos and videos that were produced for this game, many videos and photos weren't able to be included in the game. In near future the game's creators plan on adding in the parts that are missing, but for now, hope you enjoy what we have done so far.
 BY THE WAY, SCROLL YOUR MOUSE OVER ALL THE PICTURES YOU SEE, TO GET MORE INFO ON THE STORY/MAKING OF THE GAME!
This entire game is based on a true story. Well, everything except the chainsaws. And the Mexican Flipping Cat. And....
Well, we said it was BASED on a true story.
As me, Miccy2000, you must  go to the movies, survive a rainstorm, go home and have lunch and return your crappy game to EB games, before your 7 day trial period is over! Then you will have lost yourself a whole $18.50 in irreplacable birthday money! You have to act now!
This game also contains 'unlockable features' and 'secrets' so be sure to play through it again if you wanna see it all!
---
coauthor
Out of holiday time boredom, Miccy2000 has made a return to the site for an indeterminate period and figured he might as well release this silly little game that he never finished. No doubt it's effin glitchy, so my apologies- do let me know in the comments of any significant problems you encounter, it would be much appreciated- game updates are noted on bottom of description.
DESCRIPTION
So, you were dissappointed last time when the closest you got to being a 'supervillian' was teleporting out of a phone booth like some GTA-Vulcan retard sub-species?
Well, prepare for less, or more dissappointment, in the continuing adventures of YOU as you try as hard as possible to stay alive and make as much many as possible, in:
WHO STILL WANTS TO BE A SUPERVILLIAN?
CREDITS: The story, or lack of, and all the awesome semi-mediocre illustrations are done by me.

UPDATES
26/12/11: Thanks to urnam0 for pointing out failures to pay the player for certain missions, also added a couple of new crimes.
31/12/11: The mugging crime wasn't always paying you the right amount, fixed it.
Do let me know if you find any glitches, thanks.
---
unpublished
two people, a large amount of people that want them dead. even better ths goverment wants them dead because of there involvemant in the AGA.
---
unpublished
You're in a psych ward and the murderers are out! AHHH!!!
This idea for this game came from Chris_Zelda, but Miccy2000 did pretty much all of it except for like two pages. Anyway, play it!
---
The Coast of the Chase 2: AGA Infiltrations
unpublished
the second part to the first one. OMG WOW. yeh well if you liked the first one u mite like this one, well i dont no because i havent started it yet.
---