Pixiebaby321

, The Reader
Member Since
6/14/2011
Last Activity
7/5/2013 4:14 PM
EXP Points
Post Count
9
Storygame Count
2
Duel Stats
0 wins / 1 loss
Order
Commendations
No Profile Entered
Storygames
You, as Elle Jergens, have generously volunteered to help your grandma run her bed and break
fast for the summer. Located less than a mile from the beach, it seems like paradise! Along with taking care of the gusts and helping out around the inn, you'll have to solve a fun, puzzle-filled mystery! Is your grandma really as forgetful as everyone believes she is, or is something very strange going on at the Dandelion Hills Bed & Breakfast?
Couple of things to keep in mind: score is being kept, so guessing when you reach a puzzle in order to reach the end is not going to help your score. Right answers are all +100 and wrong answers are -25.
Another note--I spent a très long time constructing this and putting it together. I'm not saying it is perfect or brilliant or the best ever by any means--all I'm saying is if you don't like it, if you could could refrain from saying that in a harsh or rude manner, I'd really appreciate it. Just keep in mind, this is only the second choose your own adventure I've done, and my first with the advanced editing mode. I'm still working out everything! Okay, I've rambled
enough.
Above all, have fun, enjoy, and challenge your brain a little! Speaking of which, I had NO idea how to rate this for difficulty. I'm not sure if the puzzles are too difficult or too easy, so if you comment, if you could rate the game as easy, moderate, or difficult so future potential players can get more opinions, I'd appreciate it.
---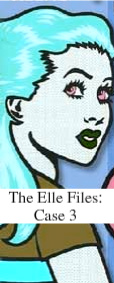 You, as Elle Jergens, are meeting up with your friend Avril Jung at a recently re-opened Amusement Park called Suicidal Skies. It is supposed to be nothing more than a fun day enjoying the rides and foods of a wonderland filled with mechanical excitement. Little do you expect a mystery to fall into your hands! Once again you'll have to question suspects, explore the amusement park, keep your wits about you and solve the puzzles to figure out who is determined Suicidal Skies stays closed for good.
Puzzles are designed to make you think a little, but they shouldn't be too difficult to solve. You should *not* guess the answers just to get to the end though--wrong answers are -25 and all right answers are +100.
This might not be a game you can solve in one swoop--so I've placed several spots for you to save your game so you can come back to where you were without having to start over.
Also, it is of importance to note that dialogue is color-coded in this game. You'll figure that out in the game, but just so you're not scratiching your head going, "huh?"
Well, that's about it! Have fun, enjoy, and push your brain a little!
---
Recent Posts
All mystery lovers/writers come hither!
on 9/12/2011 10:48:35 PM
Thanks! But yeah, I decided against the coauthor thing earlier :D
---
All mystery lovers/writers come hither!
on 9/11/2011 12:05:37 PM
Yep, I do love Nancy Drew :D It was the inspiration and foundation of my games. Okay, I can help you! I'll add you as a coauthor to my work. Glad you like my work :D
---
All mystery lovers/writers come hither!
on 8/19/2011 5:49:14 PM
I would like a Coauthor for my next project. It will be the next installment in my series The Elle Files. It is a mystery/puzzle story. You would have to take a look at one of the two Elle Files I already have up to see if you'd be interested, and I'd take a look at your work to see if we'd be able to work together :) Let me know!
---
Hi
on 8/19/2011 2:30:55 PM
Hello :) I' ve been on this site for a few months now, and I think it is a lot of fun! :)
---
I posted it!! (finally)
on 8/19/2011 12:11:28 PM
Thank you commenting on it :D I'm pretty sure it was harder than the first. That was the intention anyway lol.
---
I posted it!! (finally)
on 8/19/2011 2:34:35 AM
Oh thanks :) wasn't exactly sure where to put it myself lol.
---
I posted it!! (finally)
on 8/19/2011 12:43:12 AM
Hi all! I'm super excited because I finally published a project I've been working on for about 3 months now. If you wouldn't mind checking out The Elle Files: Sabotage at Suicidal Skies, it would mean a lot to me! Or if you just want to talk. How's it going?
---
Hi everybody!
on 6/17/2011 8:24:10 PM
You did! Thank you kindly :D
I unpublished it so I can do some editing or not...*shrugs* I don't know :D
---
Hi everybody!
on 6/15/2011 4:31:25 PM
Hi! This site is really cool so far. I just uploaded my first choose your own adventure story, and I'm pretty excited!
---