TharaApples

, The Grandmaster of the Written Word
Member Since
6/5/2013
Last Activity
8/13/2022 5:08 PM
EXP Points
Post Count
2465
Storygame Count
1
Duel Stats
0 wins / 0 losses
Order
Commendations
I like to read and sometimes partake in some witchcraft here and there. Apples are also great, as they're good for consumption and being turned into juice, as well as various pastries.
My name is Thara if you couldn't tell. A witch that was turned apple goddess by her own admission. I have a wealth of knowledge on silly things.
Trophies Earned












Storygames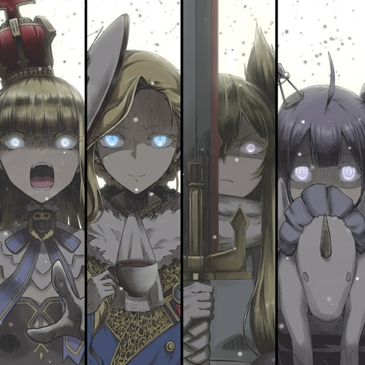 Family must die. With a kingdom in shambles, and a crown too heavy in the weight of both responsibility and sin, someone must acquiesce the throne. But what can one princess do?
Update: Taking ninjapitka's very helpful and wonderful comment in mind, I've went back to this story to iron out many of the typos that were present in the first publishing. So I want to thank him for basically allowing me to bring a hopefully improved story-game here for you all to experience. However, there still might be some that are present. If so, feel free to point them out in a comment or message me directly if you feel the want/need. In any case, I hope any potential enjoyment isn't too badly affected, and that this is something that can be found fun in some capacity. Thank you to ninjapitka again, and whoever reads this.
Update #2: The story-game is in the progress of being proofread and fixed up a bit. A special thank you to Tim36D for sitting down and giving me a list to follow for these corrections. 
Author Notes:
This story is a contest entry for EndMaster's Dark Fantasy Edge lord contest 2. I wouldn't call the protagonist in this instance an edgelord, but the story does have some rather dark themes to say the least.
Foolish Princess has three endings that you can receive. There's one that is honesty pretty normal. One that can be considered the 'bad' ending. And there's a 'true' ending that can be reached as well. 
I hope you all enjoy it. 
---
unpublished
---
Recent Posts
Proof of life
on 8/10/2022 6:53:46 PM
And apparently in the original Japanese translation, the FEMC still "spends a long time" with him. It's the line that a player usually gets in a social link with heavy romantic subtext that's rank 10 and the characters are in a bedroom with one another. Maybe playing an intense game of chess? In any case, the localization team added the "you spent a long time talking" but taking the original dialogue into account, it wasn't talking they were doing.
Maybe another intense game of chess?
But the trend continues in both Persona games that follow. In P4 you can be 16-17 and enter some relationship with an older nurse. P5 has you being 16-17 and able to date your older female teacher, or your older local doctor. But a 10 year old is kind of in a different league... they're re-releasing P3 on Xbox so I guess we'll see if they'll keep this scene in. 
Only time will tell if Persona 6 continues that trend. 
---
Proof of life
on 8/10/2022 5:32:21 PM
I changed my avatar just to answer your question. 
---
Proof of life
on 8/10/2022 4:50:32 PM
This game was indeed quite progressive and ahead of its time when you think about its release date of 2009. As always the samurai is ahead of the silly fat cowboy.
---
Proof of life
on 8/10/2022 4:40:35 PM
Some would say it's how you know you're playing a game that was produced in Japan. Lel.
---
Question
on 8/10/2022 4:30:01 PM

---
Proof of life
on 8/10/2022 4:17:39 PM
width="560" height="315" src="https://www.youtube.com/embed/Sn2I6ME8BhM" title="YouTube video player" frameborder="0" allow="accelerometer; autoplay; clipboard-write; encrypted-media; gyroscope; picture-in-picture" allowfullscreen>
Well, I've been playing Persona 3 Portable. This is someone like Kiel's favorite game for the reason that is presented in the video above.
---
Question
on 8/10/2022 4:12:55 PM
The retarded tend to stick together. 
Because I clearly am the bigger bully here.
---
EndMaster's short stories
on 8/3/2022 8:46:05 PM
Magnificent. 
Open relationships when there's a bull involved are quite intriguing to read about. I'm happy Voldy was brave enough to share his own life's story with us. 
---
Seeking attention from obscure writing sites
on 8/3/2022 8:44:43 PM
Well, it links to a different thread. So maybe we should do another one that will send someone to this very thread if they happen to be on a commendation page. 
My, it seems I was the very second post. I'll just commend my own post in blatant abuse of power. 
Yes, no disagreements needed, thank you. 
---
Say Hi!
on 8/3/2022 4:52:14 PM
---