weedy

, The Dramatist
Member Since
5/5/2006
Last Activity
6/13/2010 10:04 PM
EXP Points
Post Count
190
Storygame Count
2
Duel Stats
33 wins / 18 losses
Order
Commendations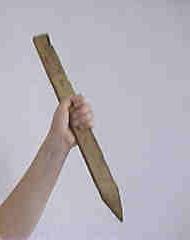 Trophies Earned



Storygames
An exciting adventure through a mysterious forest.
---
coauthor
A primates Adventure         
A man lies dead in the forest, and you weep on the rock where he met his fate, his blood still fresh on your hands. Why would such a thing happen? You know that they haven't noticed that he's missing now, but just you wait.
 You'd
         better
                   Hide.
Keep your eyes open to just about every item that comes. You'll need most of them. I'll reward the user that wins this game with untold riches that no one would guess. It's very hard. So don't say I didn't warn you.
---
unpublished
Step back into the past to a time when dragons walked the earth, and the dark spells of sorcerers did battle against the flashing swords of valiant knights. You find yourself the possessor of the Silver Sword of Antaia. And with the legendary sword comes a mission- to drive away the evil that holds Antaia in its grip!
---
Recent Posts
Sentience
on 10/18/2007 9:35:19 PM
Why don't you just PM me? I have got a block on my email but would love to help all the same. I will promise to check for PMs on this site everyday.
---
Sentience
on 10/18/2007 8:17:18 PM
I would love to help you with the writing. I have never used the advanced gamer generator before though, is this a problem? In any case, I am very good at finding pictures and I don't mind checking spelling and grammar. I think I will be sticking around here for a long time this time, so you can count on me to do my best.
---
I need some advice.
on 10/18/2007 5:35:12 PM
Yes, that's the one. Maybe my character should be looking for a hidden treasure or something. Is that too cliched? I'm also afraid that too much change won't be good for my story.
---
I need some advice.
on 10/18/2007 9:48:18 AM
Maybe all I need to do to it is fix up some of my spelling errors and fix the pictures. Can you see most of the pictues in my game? I can see almost all of them with my computer, but it might be different on other people's.
---
Sorry...
on 10/16/2007 5:19:00 PM
You know, forum trolls.
---
Sorry...
on 10/16/2007 5:11:29 PM
Hey, just don't turn into a troll!
---
I need some advice.
on 10/15/2007 10:04:34 PM
I do have a few things that I think I could make better, and with the type of story I have it would be easy to make it longer. Do you like the randomness of it, or should I make it not so random? Would some combat be a good addition?
---
I need some advice.
on 10/15/2007 7:40:52 PM
I am trying to come up with some ideas to make a sequel fresh, but still similar. Any suggestions?
---
Monk
on 10/15/2007 5:46:57 PM
I love Monk!
---
I need some advice.
on 10/14/2007 7:09:34 PM
I am thinking about either making a Forset of Darkness Two, or just editing what I have already. What do you think? Do the like Forest of Darkness the way it is, or does it need some change?
---